Danny Ottoman designed by Shelley Mason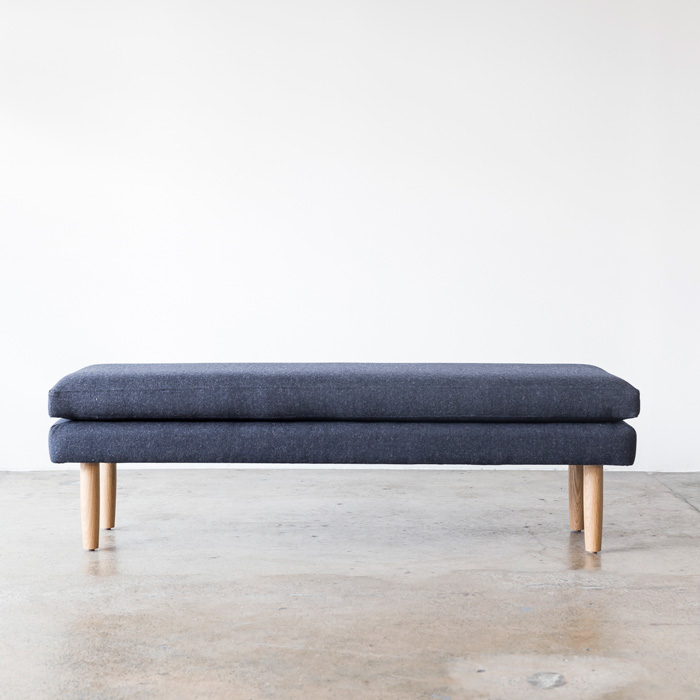 Danny Ottoman designed by Shelley Mason
The Danny Ottoman was made to sit handsomely and comfortably at the end of the Sandy bed by Staple&Co. The Sandy is the very soul of relaxed elegance, the ottoman echoing this sentiment completely.
Made to order in the fabric and colour of your choice, its inviting form is destined to be a future design classic.
The Danny was designed by our very own creator and director of Project 82, Shelley Mason.
Customising the Danny
This ottoman can be personalised with specific upholstery, sizing and legs. Customisation allows you to transform the Danny to suit your personal aesthetic.
Standard Sizing (custom sizing available on request)
1400L x 450W x 400H (mm)
1600 x 450W x 400H (mm)
1900 x 450W x 400H (mm)
Upholstery Leather, Linen, Velvet, Vinyl - you decide
Shown here in Feel Wool Fabric, Col, Secure with Natural Oak legs
Leg Options: Turned timber in Natural, Walnut or Matt Black Stain
Pricing
Pricing is determined the upholstery and size required, contact us for a quote. We suggest you visit our showroom if in Sydney, or contact our consultants for assistance with upholstery options.
Lead Time
The Sofa Maker sofas are made to order in our Sydney workshop. At Project 82, we love working with our local community to support and provide well made Australian design. As each piece is custom, the lead time on the Ethel is approximately 8-10 weeks.
Warranty
The Danny carries a 10 year structural warranty, and a 1 year warranty for the upholstery
Delivery
The price for this item will not include delivery, but this will be calculated by our team when order is placed.