staple&co stories: kaz and rob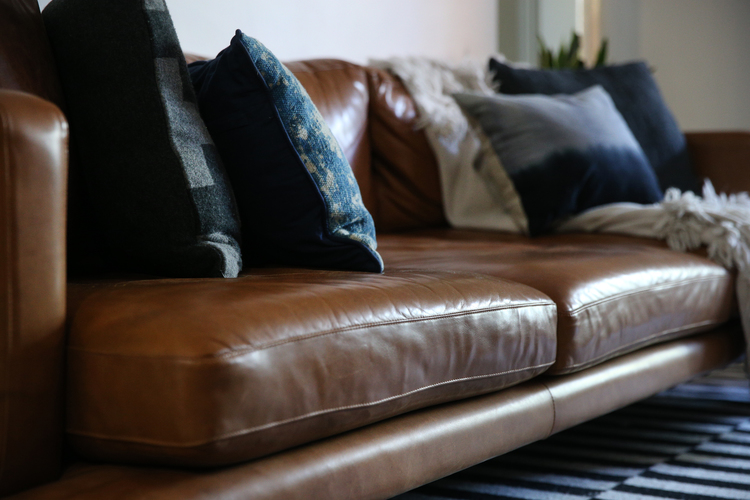 We love to touch base with our clients once their custom sofa arrives, and is settled in. Kaz and Rob talk about their custom Lennon with us below.
Their sofa: Lennon 2400 Deep / Pelle Ascona Col: Pyranese
"You can curl up on here for hours and the whole couch kind of cuddles you"
How would you describe your interior style?
Eclectic and a little inconsistent. I'm trying to learn to not fall in love with absolutely everything I see – attempting to channel a 'less is more' theory. I really struggle, though, as I adore interiors, colour and pattern. Rob generally just goes along with wherever my head's at.
What do you love about the Lennon?
We love how deep the sofa is. You can curl up on here for hours and the whole couch kind of cuddles you.
Apart from the Lennon, what's your favourite piece in the house / office and why?
We have an awesome hexagonal Moroccan table that's inlaid with mother of pearl. It's a real talking-point. However, I can't quite find the perfect spot for it in the house right now, so it's meandering from room to room. It's so unique, it really needs a space of its own! I keep promising that when we win Lotto, it will take pride of place in our parlour.
Are you more of a minimalist or maximalist?
Definitely a maximalist yearning to be a minimalist.
France or Italy?
Italy!
Whose interior style do you admire?
Jenny Hjalmarson Boldsen (@Frustilista). Total Scandinavian perfection.
Why did you choose the Lennon?
The Lennon chose us... :)
How long have you had it for?
Nearly three years.
If you could hang any painting from any era on your wall, what would it be and why?
Jackson Pollock's Blue Poles... aside from my own love of colour and texture - the painting itself gives you this visceral reaction... it's like it's loaded with anger and excitement and it's literally lifting off the canvas.
Who's your favourite living Australian artist?
My mum of course!
Describe your perfect Sunday / weekend.
Yoga, excessive calorie intake, nap, dog, beach, husband.
Guests are over for dinner. What's on the menu?
Slow cooked lamb shoulder, freekah salad. Some incredibly fatty dessert that requires a Cadbury Flake to be bashed up over the top.
Favourite café / restaurant?
Our weekly go-to favourite is Pasha's in Bondi - cheap and easy Turkish.
What's your go-to interiors blog / website?
@thestylephiles on Instagram... and I love The Selby for some voyeuristic house perving.